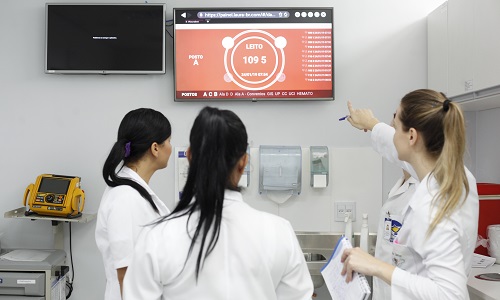 24 May, 2021
TechEmerge Health innovator Laura raises $2 million to expand cutting-edge AI solution
Brazilian health tech innovator Laura has closed a BRL 10 million (~$2 million) seed round, led by American fund GAA Investments, as part of the startup's efforts to expand its growth in the Brazilian market, as well as in other Latin American countries such as Peru and Colombia.
Laura participated in the TechEmerge Health Brazil program in 2018-19, where it partnered with local hospital Santa Casa de Misericordia in Porto Alegre to pilot an AI solution that provides healthcare staff with early warning of patients at risk of clinical deterioration, thereby lowering mortality rates.
The company said that the successful TechEmerge pilot helped to create new partnerships with several other Brazilian organizations. It subsequently secured commercial contracts, angel investments, grants, and sponsorships to implement its technology in hospitals across Brazil.
Laura's solutions are now deployed at more than 40 healthcare institutions, and the company says its technologies have helped to save more than 24,000 lives.
Laura has now expanded its portfolio of products to include a primary healthcare virtual assistant, called Laura Care. Laura Care was deployed in 2020, just shortly after the onset of the COVID-19 pandemic, and 30 Brazilian municipalities and private healthcare providers have used the cutting-edge solution to support pandemic response efforts, providing virtual screening and monitoring to more than 500,000 patients.
In late 2019, the Curitiba-based company also created the Laura Fressatto Institute, where it conducts research into AI health technologies and offers lower-cost solutions for select hospitals.