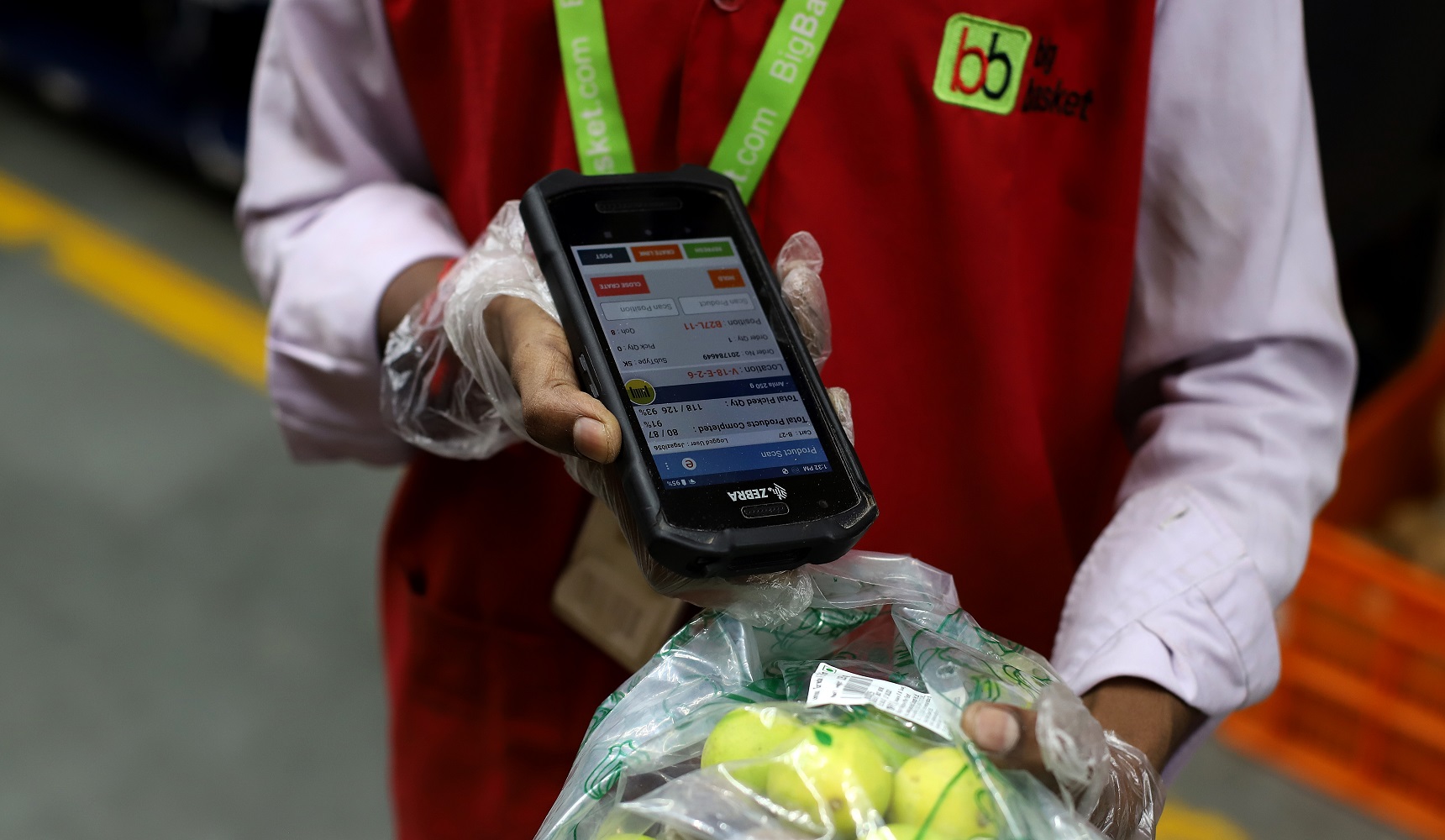 TechEmerge Sustainable Cooling Retail Cold Chains South Asia
Each year one third of all food produced globally is wasted, often due to cold chain gaps and inefficiencies. In India alone, food waste amounts to $14 billion in losses annually. Unreliable cold chains can also spoil life-saving vaccines, reinforcing the urgent need to strengthen this critical sector.
TechEmerge brings together innovators across the world and leading e-grocery companies, BigBasket in India and Chaldal in Bangladesh, to pilot, scale, and de-risk investment in sustainable cold chain technologies, while building commercial relationships in this dynamic region.
Two pilots have already been completed with highly encouraging results, significantly reducing greenhouse gas emissions and energy consumption. If deployed at scale, they have the potential to deliver enormous improvements throughout the retail cold chain. 
Market context
$18 bn
Forecast value of India's e-grocery sector by 2024
↑50x
Energy required to keep produce fresh at warehouses could increase almost fifty-fold in two decades
↑27x
The number of reefer trucks is projected to grow from ~15,000 in 2018 to 400,000 in 2038.
South Asia's largest economy, India, offers one of the fastest growing cooling markets in the world. Across the region demand for affordable, energy-efficient technologies that meet the retail cold chain needs of the e-grocery market is expanding rapidly. 
According to RedSeer Consulting, India's e-grocery sector will grow from $1.9 billion in 2019 to $18 billion by 2024, while market analysis from Grandview Research estimates a compound annual growth rate of 37.1 percent will see market revenue will reach $38.9 by 2028.
COVID-19 lockdowns and transmission fears have been significant factors in this growth, with millions of customers in India embracing online payment mediums to take advantage of same-day delivery, low delivery charges, and flexible return policies offered by all key e-grocery players. The sector's low margins, complex supply chains, and rapid growth will require tens of billions of dollars of investment in coming years. 
The e-grocery market in neighboring Bangladesh is also reported to be experiencing double digit growth, with new players entering the market as a result of COVID-19-driven demand.
Regarding cooling infrastructure, over roughly the next 20 years, commercial and domestic demand for refrigeration is expected to quadruple in India to 2,400,000 TR, according to the India Cooling Action Plan (ICAP). ICAP also forecasts that energy required to keep produce fresh at warehouses will increase almost fifty-fold from 22,000 MWh to 5.2 TWh, while the number of temperature-controlled reefer trucks will grow from approximated 15,000 in 2018 to 400,000 in 2038.
TechEmerge is supported by a network of advisors with vast experience in growing sustainable cooling technology innovation across the world.
Our adopters are leading e-commerce and online grocery companies in South Asia. BigBasket is India's largest online food grocery seller, offering services in more than 20 cities, while Chaldal is the biggest online grocery company in Bangladesh, serving four of the country's most populous cities.
Our innovators represent some of the most promising tech companies worldwide, including homegrown talent from South Asia. They offer affordable, energy-efficient, climate-smart cooling solutions for the retail cold chain sector and more.
Two cold chain pilots have already been successfully completed at BigBasket sites in India. Work is underway to conduct more field tests on the ground in Bangladesh.
Two retail cold-chain pilots have already been successfully completed by Indian online grocery retailer BigBasket and New-Delhi based innovator New Leaf Dynamic Technologies. 
BigBasket was both innovator and adopter in the first pilot. It field-tested a plug-and-play modular cold rack system that compartmentalizes a single space for multiple uses by desired temperature range and demand – tackling one of the biggest design issues that make cold rooms so inefficient and costly to run.  
In the second, BigBasket teamed up with New Leaf Dynamic Technologies to pilot the innovator's  GreenCHILL refrigeration system. GreenCHILL uses a natural refrigerant with zero greenhouse gas emissions,  requires only a fraction of the electricity used by conventional refrigeration systems, and runs on biomass, such as inexpensive, readily available coconut husk. 
Zero GHGs
Greenhouse gases produced by the GreenCHILL refrigeration system
↓90%
GreenCHILL usage of fossil fuel-based electricity
↓19%
GreenCHILL running costs vs a conventional cold room
↓14%
Modular cold racks reduced electricity use*